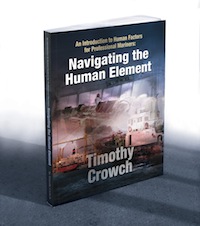 Please note that we have restricted quantities to a single item per order with this automated system for the moment. For quantities of more than one item, please contact us for a discount (and reduced shipping rates).
Chapter 1: Making mistakes – we call it "Human Error"
Chapter 2: Communication
Chapter 3: Correct use of VHF
Chapter 4: Intervening with Senior and Junior Colleagues
Chapter 5: Vision and Visual Illusions
Chapter 6:  Situational Awareness
Chapter 7: Working with a Pilot on board
Chapter 8: It is all about ME. Keeping myself fit for duty
Chapter 9: Fatigue – It's a KILLER
Chapter 10: Decision-Making
Chapter 11: Where do I begin? How do I use all this useful information?